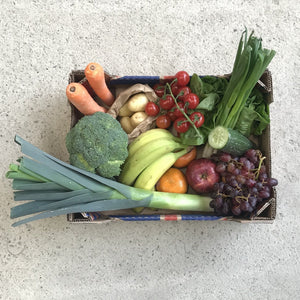 ***contents of box may differ from pictured due to seasons, availability and quality of products available*** We want you to have the best produce so if something isn't up to standard we won't be putting it in your box.
Perfect for feeding a 1-2 person household for 1 week.
A box of fresh fruit, vegetables and salad vegetables delivered directly to your door! All of our produce is locally sourced (where possible - we don't grow bananas in Yorkshire...YET) and hand delivered by our team.
Contents of the box include: 
2 Carrots
1 Onion
1 Small Broccoli
1 Leek
2 Handfuls New Potatoes
2 Apples
4 Bananas
2 Satsumas
1/2 Punnet Grapes
1 Little Gem or bag of salad
1/2 Cucumber
1 String Cherry Vine Tomatoes